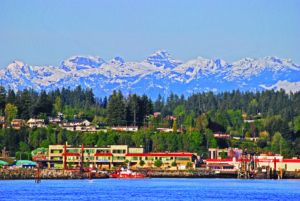 Campbell River is such a great place to live! Its central location allows for endless outdoor pursuits and the ocean and mountain views are stunning-the best on Vancouver Island. The city is long and narrow and follows the ocean for miles and miles and you can enjoy the views by walking, running, or cycling on the sea walk. There are various beaches to explore as well. Don't forget to check out sandy Miracle Beach which is a short drive south of town. From the sea walk you can see Quadra Island with its lighthouse at its south end, Mitlenatch Island and other islands, as well as the Coast Mountain range with its snow-capped peaks on the Mainland. Views from the water or from Quadra Island looking towards Campbell River show the spectacular "Island Alps"-the Vancouver Island mountain range with Alexandra Peak positioned prominently behind the city. When I boast about its central location I am referring to its easy access to so many amazing places. Skiing at Mt Washington Alpine Resort is only a short drive away (where else can you ski and golf on the same day, or see the ocean from the slopes?) and the snowshoeing and hiking up in Paradise Meadows is accessed from there as well. Campbell River is a stone's throw from majestic Strathcona Park which really is the jewel of the whole island with its maze of hiking trails, famous bushwhacks and access to alpine terrain and glaciers. But I'm biased! You'll find me with my ice axe in Strathcona Park on most days off! There are also loads of hiking trails right in Campbell River in Elk Falls Park where you can also experience the beautiful waterfall right from the new suspension bridge. And let's not forget the famous Ripple Rock trail north of the city. Are you into boating and fishing? Whale watching and grizzly bear tours depart from Campbell River. Or take a boat out salmon fishing or prawning, or explore stunning Desolation Sound. Sleep on the boat or take your tent and sleep on the beach! Take the boat to Cassel Falls or Mitlenatch, or head over to Rebecca Spit on Quadra Island or to beautiful Smelt Bay's white sand beach on Cortes Island. The opportunities are endless here!
Campbell River is still a really affordable market to get into (in comparison to markets south of us) and look at all the added value you get by living here! It's not just about a house, it's about a lifestyle! This is island life at its finest! If you are thinking of moving to Campbell River and have questions about its many amenities and services please give me a call or send me an email anytime! 250-203-8652 or info@bcislandrealty.ca
For more info about Campbell River check out this website:
https://www.campbellriver.travel
Look forward to local events posted to this site on a regular basis and make sure to check out all the local Campbell River properties for sale here too!
Here's a photo of me at camp near the summit of Big Interior after having climbed the iconic Nine Peaks (in the background) last summer in my beloved Strathcona Park!